Head and Neck Surgery – Advanced Practice Provider
Location: Charlotte, North Carolina
---
Position Details:
The Department of Surgery at Levine Cancer Institute, Charlotte, NC is seeking a Head and Neck Surgery Acute Care Nurse Practitioner (ACNP) or Physician Assistant (PA).  There are 4 surgeons and 2 APPs in the section of Head and Neck/Endocrine Surgical Oncology.   
Details about the opportunity include:
The Head and Neck service was developed to provide comprehensive multidisciplinary care with head and neck service dedicated radiation oncologists, medical oncologists, palliative/integrative medicine, speech therapy, oral medicine and tumor board
The patient population reflects the full spectrum of head and neck cases (oral cavity, oropharynx, sinonasal, salivary, larynx, endocrine, skull base)
The group has three ablative surgeons with reconstructive experience who work in coordination with dedicated Plastic surgery head and neck reconstructive surgeons to perform 100-200 free flap reconstructive cases per year
The group has one endocrine surgeon
Specific head and neck procedures performed include Tracheostomy, Neck dissection, Glossectomy, Mandibulectomy, Thyroidectomy, Laryngectomy, Parotidectomy, etc.
The Levine Cancer Institute is part of an innovative vision to deliver cancer care across North and South Carolina, building upon its strong network of affiliated hospitals and providers.  The Section of Head and Neck Surgical Oncology, under the direction of Dr. Zvonimir Milas, is in search of individuals who possess excellent clinical skills as well as an interest in academic pursuits. 
 Qualified candidates will:
Function independently in the inpatient based setting with emphasis on the operative management of acutely ill patients in collaboration with a supervising physician
Assist in complex surgical cases in the operating room
Perform pre-operative history and physical exams as well as ongoing surveillance in the outpatient setting
Attend and participate in weekly Head and Neck multidisciplinary educational conferences that earn CME credit
Attend, participate and contribute to group/practice meetings and development of policies and procedures
Lead by the world-renowned cancer expert, Dr. Derek Raghavan, Levine Cancer Institute will strive to be recognized by cancer patients, their families, referring physicians and the communities served by Atrium as the first choice provider, in the Carolinas and throughout the Southeast, and renowned as one of the premier cancer care providers in the United States.  Atrium Health cancer programs now serve 4.7 million people across the Carolinas with 14,000 new cases diagnosed annually.  The expansion will provide an easily identifiable headquarters for the Institute in Charlotte, where clinical activity will focus heavily on rare and complex cancer conditions, in conjunction with extensive research and educational endeavors.
Education, Experience and Certifications Must have or be eligible for a DEA license. Approved to practice as a Nurse Practitioner or Physician Assistant in the state one works. Eligible for prescriptive authority application through the Board of Nursing or Medical Board in NC required. BLS for Healthcare Provider from AHA required with expiration date greater than 90 days from date of beginning practice. Demonstrates appropriate critical thinking, interpersonal skills, and the ability to prioritize and make proactive decisions.  Three years of relative experience and/or surgical background preferred.
Nurse Practitioner – Master's Degree or Doctorate of Nursing Practice required. License to practice as a Registered Nurse required. Certification in the area of practice from a nationally recognized certifying body required. Acute Care board certification required based upon population and acuity served.
Physician Assistant – Graduate from an accredited Physician Assistant program required; Master's Degree preferred. Certification from the National Commission on Certification of Physician Assistants preferred.
---
Ideally situated between mountains and beaches, Charlotte has a metropolitan area of 2.4 million that continues to experience rapid growth. Charlotte is the US's second largest banking center and has a full array of cultural activities and professional sports teams. Charlotte offers excellent public and private school options, and North Carolina is home to several world-class universities.
Atrium Health is one of the largest, most comprehensive and integrated, public, not-for-profit systems in the nation compromising more than 7,500 licensed beds, employing nearly 62,000 people and accounting for more than 12 million patient encounters on an annual basis.  The General Surgery Section performs elective general surgery cases and covers emergency general surgery services at Carolinas Medical Center and Carolinas Medical Center-Mercy.  The Carolinas Medical Center is an 874-bed tertiary/quaternary care hospital, ACS-verified Level I trauma center with 141 ICU bed and 74 operating rooms.  Carolinas Medical Center provides 24/7 support for complex and critically ill patients including a 29-bed dedicated Surgical ICI with surgical critical care boarded coverage, advanced interventional radiology and gastrointestinal support, and a wide range of surgical subspecialists.
Contact Kyle Audette about this position
---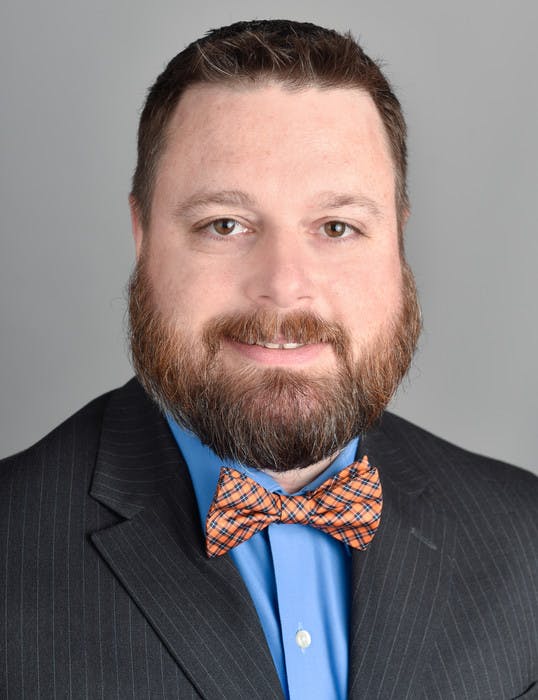 Kyle Audette
Recruiter
Contact
---
Charlotte, North Carolina: